We wish to thank all the anglers who came out for the 29th Annual Buddy Bass Tournament. The weather was perfect for fishing both days. We look forward to seeing you next year at the 30th Annual event. Here are the results from the 2013 Tournament:
2013 Buddy Bass Fishing Totals 2013 Buddy Bass Tournament Big Bass Results
The 30th Annual Missouri Buddy Bass Fishing Tournament will take place on Saturday and Sunday, October 18 & 19, 2014 A two day fun event which even includes some generational fishermen/women. You can get all the rules and information and register online at soon.
The 2012 Tournament also included a Kid's Fishing Derby, a new event in conjunction with the Buddy Bass. We were excited to include the 2nd Annual Kid's Fishing Derby in 2013. We are in the planning stages of our tournaments and are looking forward to the 3rd Annual Kid's Fishing Derby in 2014. More information is coming soon regarding both tournaments.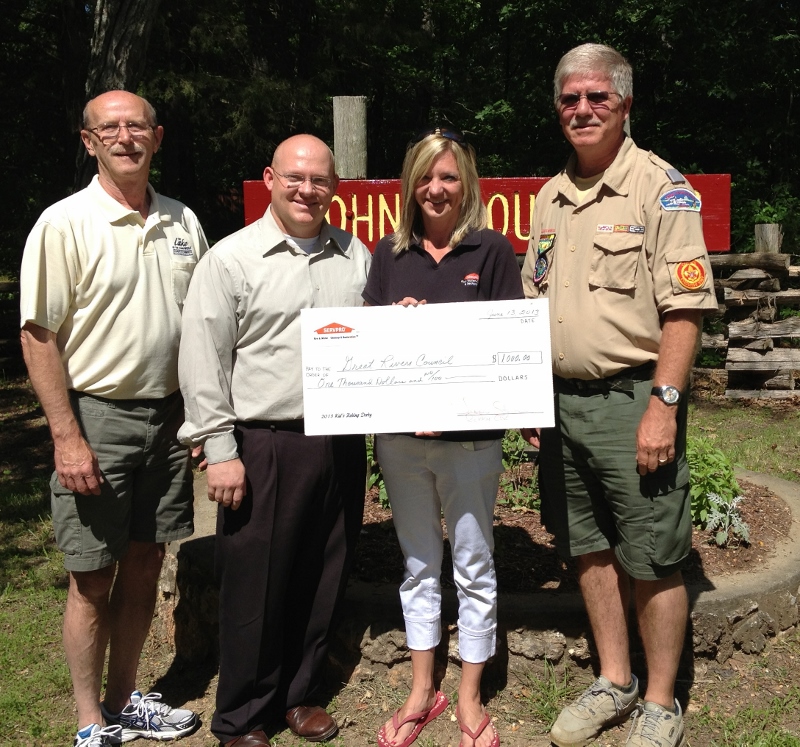 Jessica Steinbach of ServPro Lake of the Ozarks making a donation of $1000 to the 2nd Annual Kid's Fishing Derby, a Lake West Chamber event. This donation will provide more prizes and merchandise for the kids. This exciting day of fishing at the Lake is co-sponsored by the Great River Council Boy Scouts and Captain Ron's along with a number of other sponsors. Please put Saturday, October 19, 11 a.m.-2 p.m. on your calendar to bring your kid's, grandkids and and/or neighborhood kids to Captain Ron's for the 2013 Kid's Fishing Derby. If you are interested in helping with a donation of cash or merchandise to help promote this day of fun for kids please give the Lake West Chamber a call at 573-374-5500. All donations are tax deductible. Pictured l to r: Mike Kenagy, Executive Director Lake West Chamber, Andrew Renken, Renken Law Firm and President of BOD Lake West Chamber, Jessica Steinbach, ServPro Lake of the Ozarks and Mike Dimond, Great River Council Boy Scouts.